Sushi-Inspired Salmon Appetisers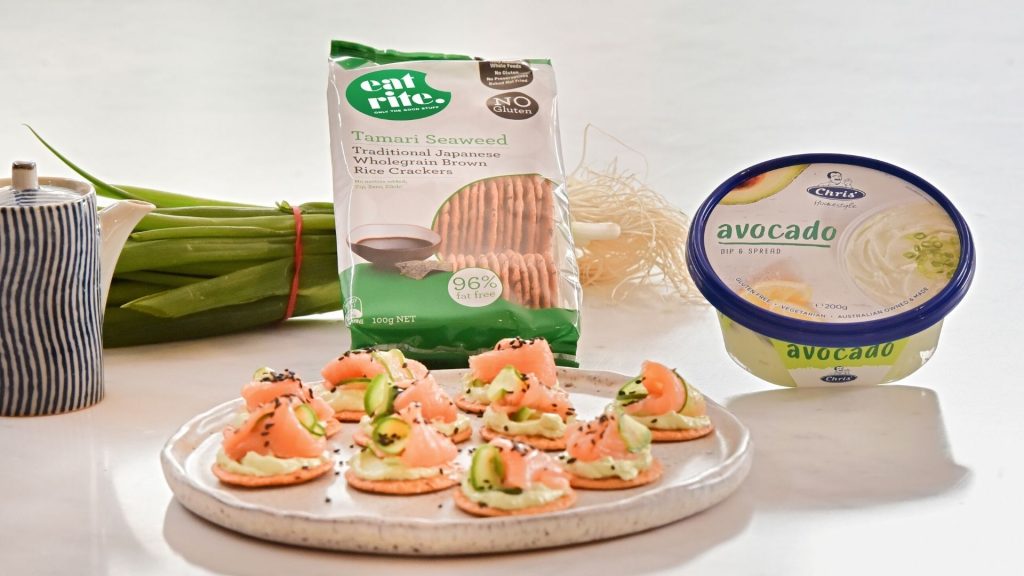 Are you crazy about Japanese food? Japanese cuisine is all about umami flavours, which basically equates to ultimate deliciousness. What's better than having sushi and salmon for lunch or enjoying the crunch of an edamame bean? So to pay homage to everything I love about Japanese cuisine, I've designed this equally delectable appetiser that's perfect for a party with friends or a party for one. It takes just minutes to prepare and is a snackable and very permittable indulgence.

Ingredients: Serves 4-6
1 packet Eatrite Tamari
Seaweed Brown Rice Crackers
1 tub Chris' Homestyle Avocado Dip
Wasabi (less than 1 tsp but spice level is up to you)
200g smoked salmon, cut into strips
1 cucumber, shaved into strips
1 tbsp black sesame seeds (optional)
A few drops tamari sauce
---
Method:
Just like a layering lasagne, these appetisers basically build themselves. On a platter, lay out 10 Eatrite Tamari Seaweed Brown Rice Crackers. These will form the base.
Dab a small dot of wasabi in the middle of each cracker.
Follow with a generous amount of Chris' Homestyle Avocado Dip. Use the back of a spoon to smooth dip around.
Twirl a piece of salmon and a piece of cucumber together. Place each twirl onto your cracker and nestle into the avocado.
Sprinkle with black sesame seeds.
Once you have all of your appetisers constructed, sprinkle with Tamari sauce and serve immediately.
Featured Ingredients: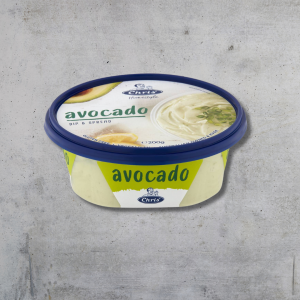 Chris' Dips
Stir, spread, dip or dollop with Chris' Homestyle Avocado Dip. Creamy, delicious and gluten free, it's perfect for enjoying any time. Why not spread some on a sandwich, or dip in with some crackers for a snack? Choose Chris' Avocado Dip for it's Australian family-owned and -made. Shop Now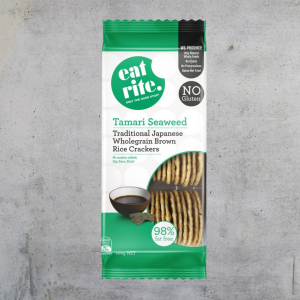 Eatrite
Only the highest-grade wholegrain brown rice is used for milling into a rice flour retaining all the essential nutrients, fibre and complex carbohydrates. Lightly steamed and oven baked to golden perfection with natural seasonings and whole white sesame seeds, Eatrite wholegrain brown rice crackers are completely free of cholesterol, MSG, gluten, preservatives and are low in GI, oils and salt.