Christmas Badrijani: Walnut Eggplant Rolls
(From In Praise of Veg by Alice Zaslavsky)
When I'm asked to sum up Georgian food, I always fire back "walnuts, garlic, coriander" — it may as well be our holy trinity. It's this dish that is always aligned with big celebrations. I particularly love this version, where the trinity is whizzed into a paste, along with some classic spices. It's then wrapped in golden-roasted eggplant, its bitterness and bite sweetened and mellowed through some quality time in the oven.
Serves: 2–3 as a main
Ingredients:
5–6 small–medium eggplants, 1 ½ kg total
Olive oil spray
1 cup (approx. 120g) shelled walnuts
1 clove garlic, peeled
1 tsp white wine vinegar
½ tsp ground coriander
½ tsp curry powder
¼ cup boiling water
Salt & pepper, to season
Pomegranate sauce:
1/3 cup pomegranate molasses
1/3 cup tahini
1/3 cup extra-virgin olive oil
To Serve:
Pomegranate seeds
Coriander leaves
Method:
Preheat the oven to 190°C. Line 3 trays with baking paper and spray with olive oil.
Cut the eggplants vertically into 8mm thick slices. Try to keep the "butts" on each side to a minimum, as these don't fold too well.
Arrange on the lined baking trays in a single layer, then spray with olive oil. Bake for 50–60 mins, turning halfway, until golden on both sides, softened and cooked through.
Meanwhile, combine the walnuts, garlic, vinegar, spices and just-boiled water in a high-speed blender until a smooth paste forms. Season with salt and pepper.
Combine all the sauce ingredients in a small bowl and set aside.
When the eggplant is cooked, remove from the oven and set aside until cool enough to handle. Scoop approx. 1 tsp of the walnut paste onto one short edge of each eggplant slice, then roll, pressing the end over and resting it on this side to keep it secure.
Arrange the eggplant rolls on a platter. Drizzle with some of the dipping sauce and scatter with pomegranate seeds and coriander. Serve with remaining sauce.
Tip: Walnuts are up there with pine nuts in being highly susceptible to rancidity once cracked. Beware of sealed packets with a long shelf life, particularly if the nuts look powdery. Either take the time to crack your own, or buy them from a bulk store where you can audaciously ask to taste before you buy. Store any leftover nuts in an airtight container in the fridge.
Shortcut: You can circumvent the walnut shelling by subbing in crunchy peanut butter (or any nut butter) instead. To speed up the eggplant process, salt the slices, pat them dry and grill instead of baking — they'll turn out slipperier, but they'll cook more quickly. Drizzle with molasses instead of the pomegranate sauce.
Alice Zaslavsky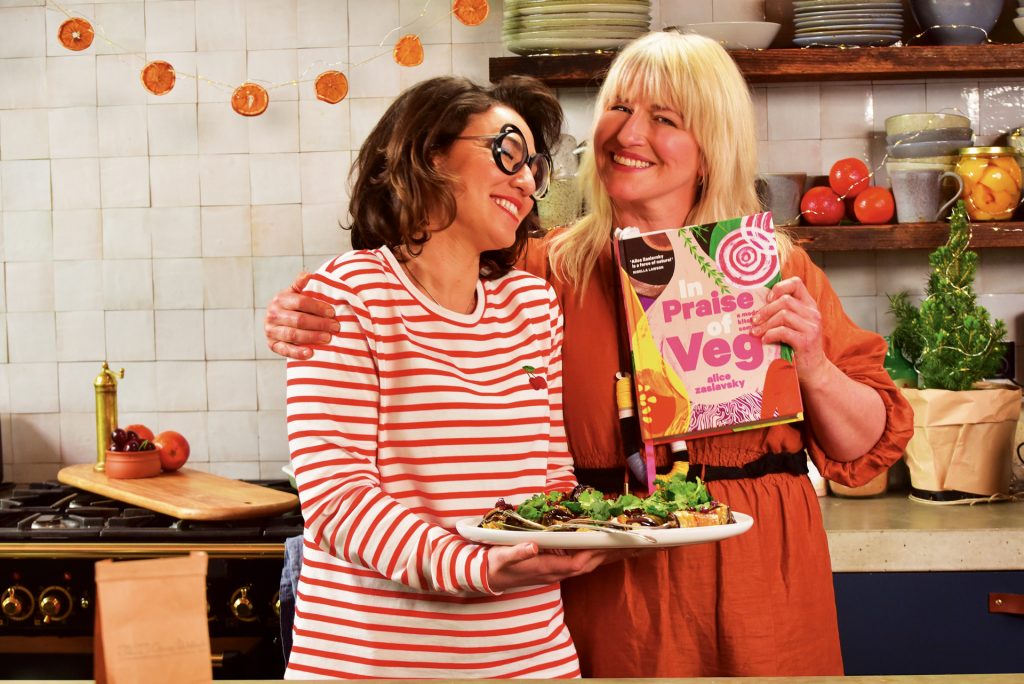 Alice is a self-described "vegelante" whose passion for the humble veg transcends into dishes far beyond a typical yawn-fest iceberg salad. Her best-selling cookbook In Praise of Veg is THE go-to guide for cooking with vegetables! At the end of the day, Alice just wants to encourage people to find the joy in cooking and eating. Cheers to that!