EatWell Christmas: Come All Orphans – A Festive Ploughman's Table
Christmas is typically a time spent with family and friends, but for some people, this might not be an option. Why should they miss out on the Chrissy cheer? This menu is designed to be a joyful celebration of sharing — recipes that can be made for one or extended to feed a table of orphans who have come together this holiday season. Everyone is welcome to our orphans' christmas!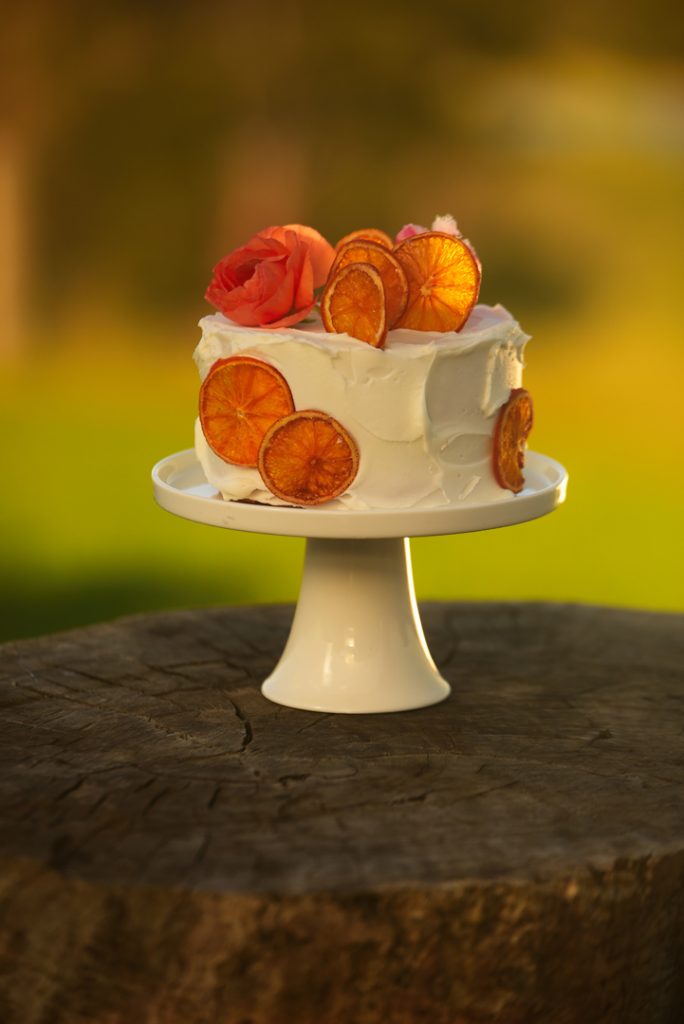 Campsite Ocean Trout & Rice Pilaf Loaded with Lemon & Fresh Herbs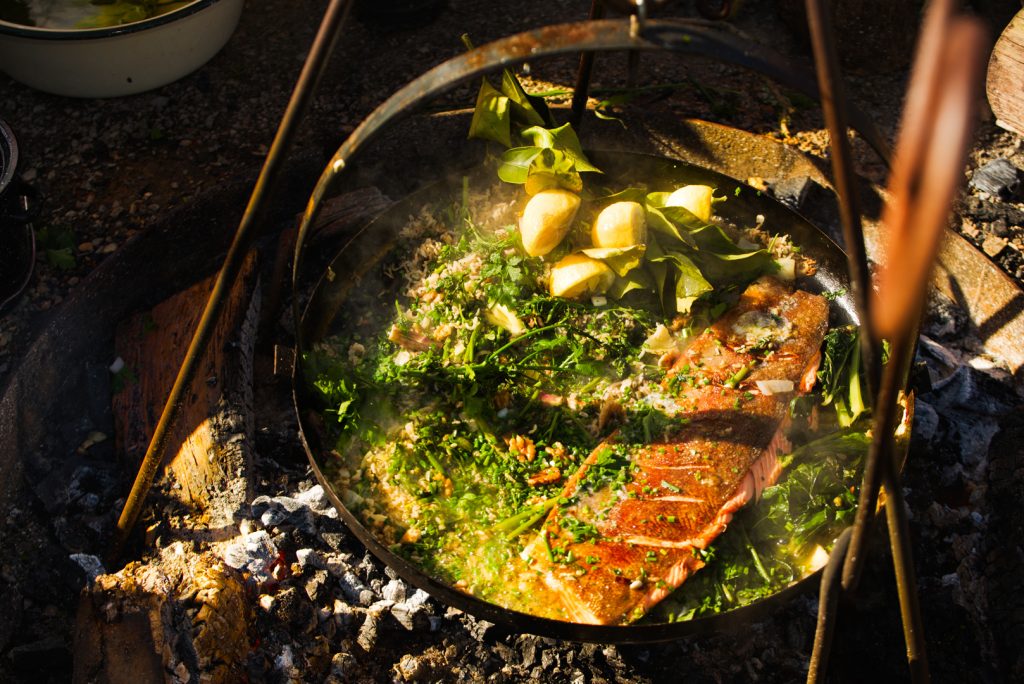 This is a bit of a free-for-all. This combination of ingredients is pretty fail-safe and all together tastes amazing. Tilda Fragrant Jasmine Rice is an easy addition to any camping pack. This is also great in a fry pan on a regular stove — maybe just halve the ingredients if you are not cooking up for a crowd.
Serves: 8
Ingredients:
150g Organic Milk Co Unsalted Butter
Dash Bertolli Extra Virgin Olive Oil
1–2 onions, sliced
5 cloves garlic, smashed
2 packets Tilda Fragrant Jasmine Rice
4–6 fresh bay leaves
Large bunch parsley
Large bunch dill
2 tbsp capers
½ preserved lemon, flesh discarded, washed & skin chopped
1 lemon, quartered
Salt & freshly ground pepper
50–60cm side ocean trout, skin scored
Method:
Add the Organic Milk Co Unsalted Butter and Bertolli Extra Virgin Olive Oil in a hot pan until they begin to foam. Add in the onions and cook until they start to soften, then add the garlic.
Once the garlic is fragrant, add in the Tilda Fragrant Jasmine Rice and stir for 1 min.
Toss in the herbs, capers and preserved lemon and season with salt and pepper.
Lay the ocean trout over the rice, skin side down. Cook for a few mins until the flesh begins to turn opaque then flip and repeat to cook the other side.
Season with a squeeze of fresh lemon juice and toss in some extra more herbs and any other fresh greens that are lying around.
Toss in some extra butter if needed and then call in the crowd and serve with fresh lemon wedges. Let's have a party!
Corned Beef (as part of a Ploughman's Grazing Table)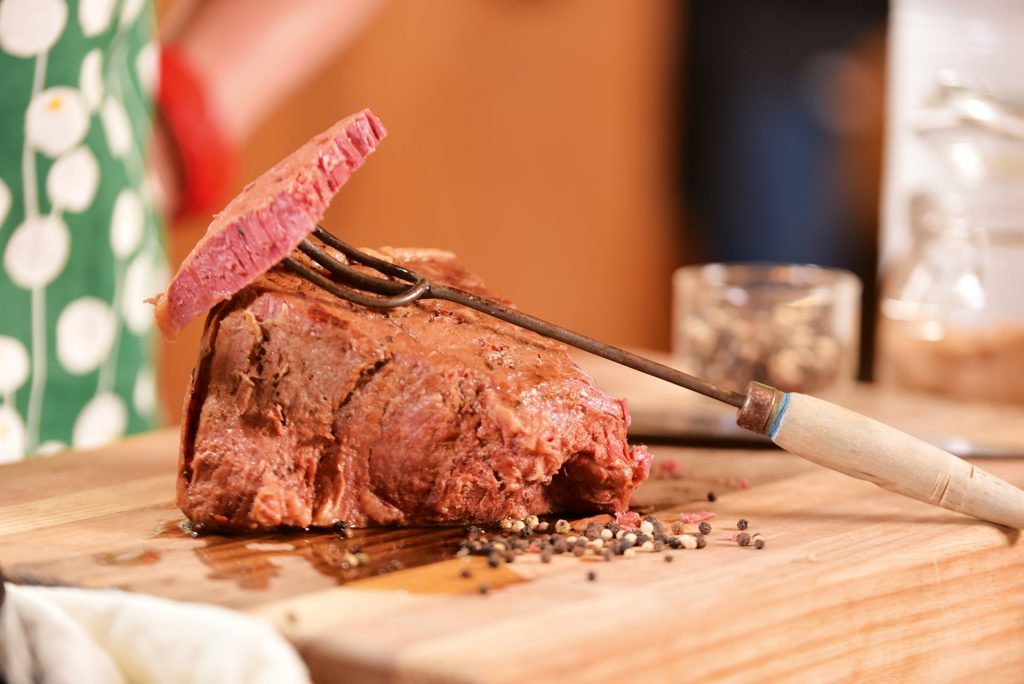 Corned Beef is a classic favourite for a reason. It's delicious, easy to prepare and makes your house smell great! I love to offer it as part of a ploughman's platter to let my guests choose their own adventure with what they like to add to their plate. The table always centres around four main things — a slice of pickled meat, a great tasting cheddar like Organic Milk Co Cheddar Cheese, some sort of pickle (I love a cherry pickle!) and some crusty bread. Start with these essential items and build your table from there. I always love to add a strawberry salad to freshen things up and add a splash of colour to the table.
Serves: 4–6 as a main
Ingredients:
1½kg corned beef
1 onion, peeled & halved
2 stalks celery, chopped
10 black peppercorns
4 bay leaves
¼ cup Mazzetti Balsamic
Vinegar of Modena
2 tbsp brown sugar (optional)
Serve with:
Pickled cherries
Boiled eggs
Pickled onions
Cornichons
Crusty bread
Organic Milk Co Cheddar Cheese
Method:
Combine the beef, onion, celery, peppercorns, bay leaves, carrot, sugar and Mazzetti Balsamic Vinegar of Modena.
Add enough water to just cover beef in a multicooker — I use the 6L Russell Hobbs Good to Go Digital Multicooker. Cover and cook for 6 hours on low. It's that easy!
Once done, remove from heat and let it cool in liquid then store in the fridge.
When ready to serve (it's great warm or cold), slice and arrange on a platter with your chosen accompaniments. This is a great way to please a crowd, and the crew devoured this on set when I cooked it for them!
Pickled Cherries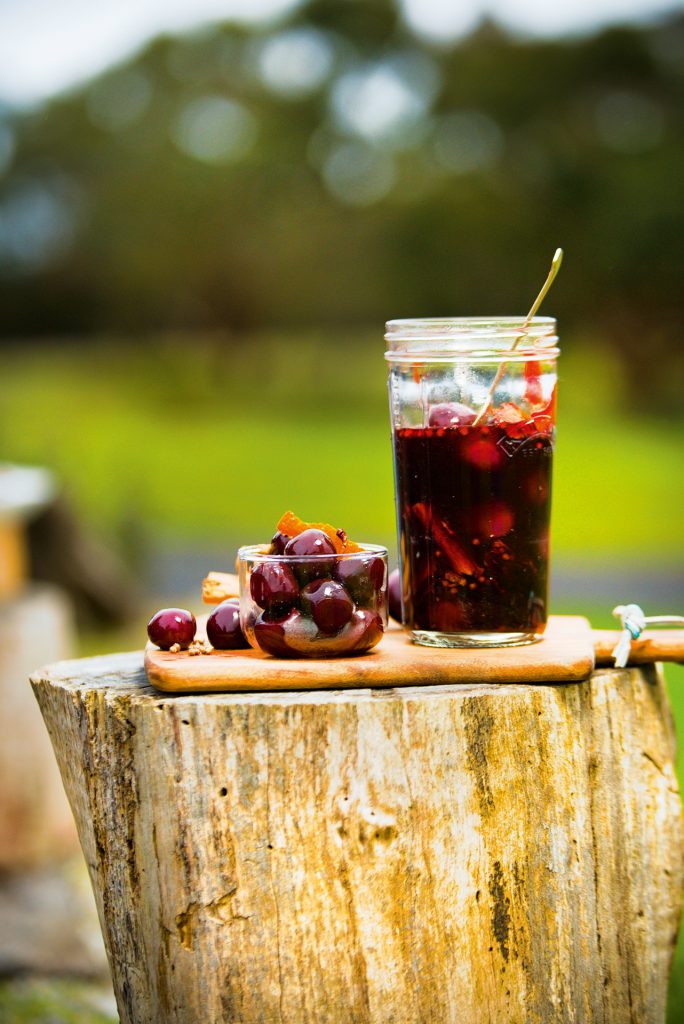 These are fabulous with meats such as pork, duck and venison. I like to reduce the brine a little and pour over crispy roast pork. They're also delicious over vanilla ice cream and make a fantastic gift!
Serves: 6+

Ingredients:
1 kg CherryHill Cherries, washed
2 cups water
1 cup sugar (use natural sugar for healthier option)
¾ cup Mazzetti Balsamic Vinegar of Modena
(6% acidity minimum)
Cinnamon sticks, broken up
1 tsp black peppercorns
Zest 1 orange (optional)
Coriander seeds (optional)
Method:
Score the base of each cherry with an "X" but leave the stones in — these add more flavour. Keep some stems intact but remove others as you wish.
In a small saucepan over medium-high heat, combine the water, sugar and Mazzetti Balsamic Vinegar of Modena. Bring the brine to a boil, then reduce the heat to low and simmer for 5 mins.
Meanwhile, divide the cinnamon sticks and peppercorns between 2 sterilised 500mL jars and fill each jar with the prepared CherryHill Cherries, packing them in as tightly as possible.
Immediately pour the hot brine into the prepared jars, covering the cherries completely and leaving a 2cm gap at the top. Wipe the rims clean with paper towel then top with sterilised lids and tighten to finger-tight.
Process the jars in a boiling water bath for 10 mins. Store the pickled cherry jars in a cool, dry spot for at least 1 week before eating (or up to 6 months, though it's unlikely they'd actually last that long!).
Tip: If you don't process the jars, keep them in the fridge for up to a month. If you are processing the jars, make sure you source a good-quality jar.
Strawberry & Fresh Buffalo Mozzarella Salad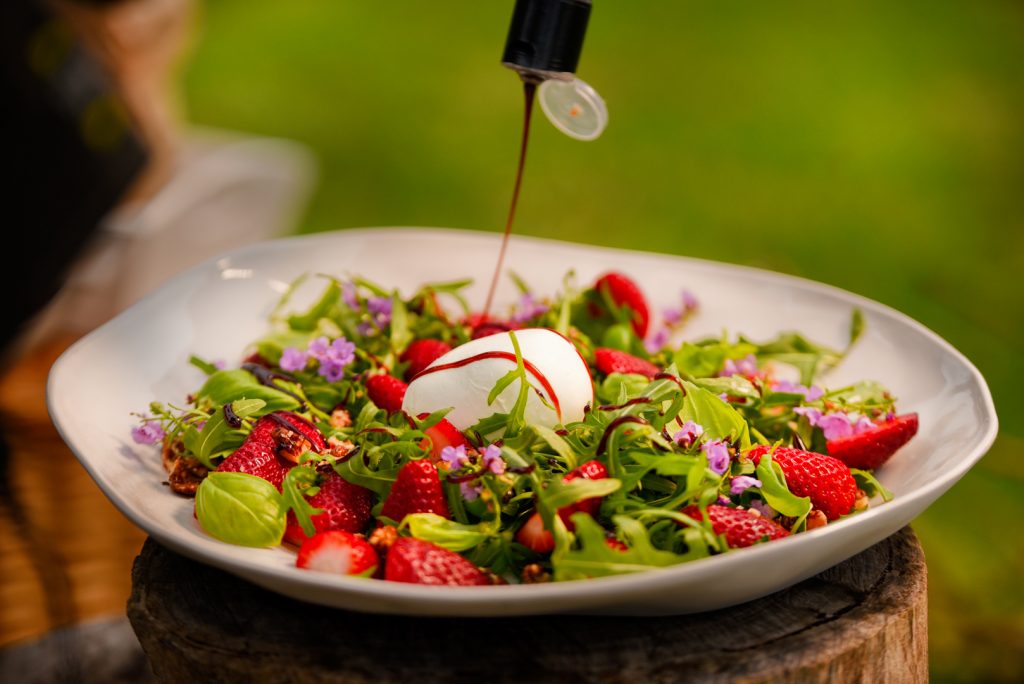 This is a magnificent salad. It is fresh, fragrant, looks gorgeous and tastes like summer. Take the pressure off this Christmas and make this salad part of your table.
Serves: 4-8
Ingredients:
3 cups fresh baby rocket
1 punnet Victorian Strawberries, halved
1 large ball That's Amore Fresh Buffalo Mozzarella
Small bunch basil, leaves picked
Mazzetti Gourmet Glaze with Balsamic Vinegar of Modena
To serve:
Method:
Lay down the rocket over a serving platter and sprinkle over the Victorian Strawberries.
Place the That's Amore Fresh Buffalo Mozzarella in the centre of the salad. Sprinkle basil leaves over the top and add a generous drizzle of Mazzetti Gourmet Glaze.
Sprinkle over the fresh walnuts and serve. It's simple yes, and delicious? You betcha!
Handy Tip: To perfect your table, add a quality cheddar like The Organic Milk Co.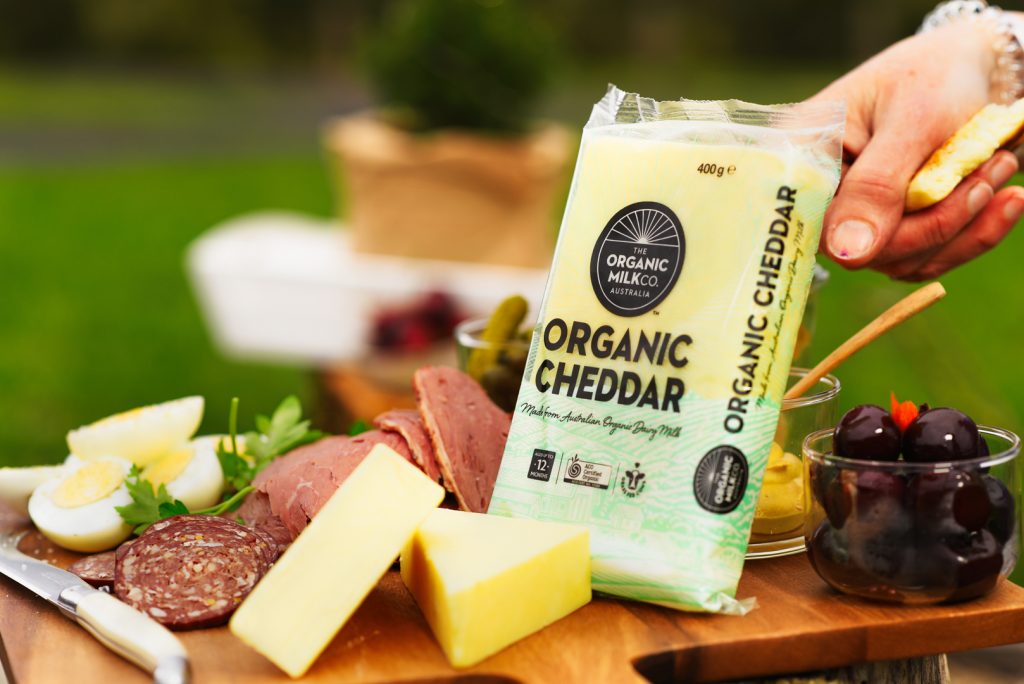 Yoghurt Pita with Caramelised Onion Dip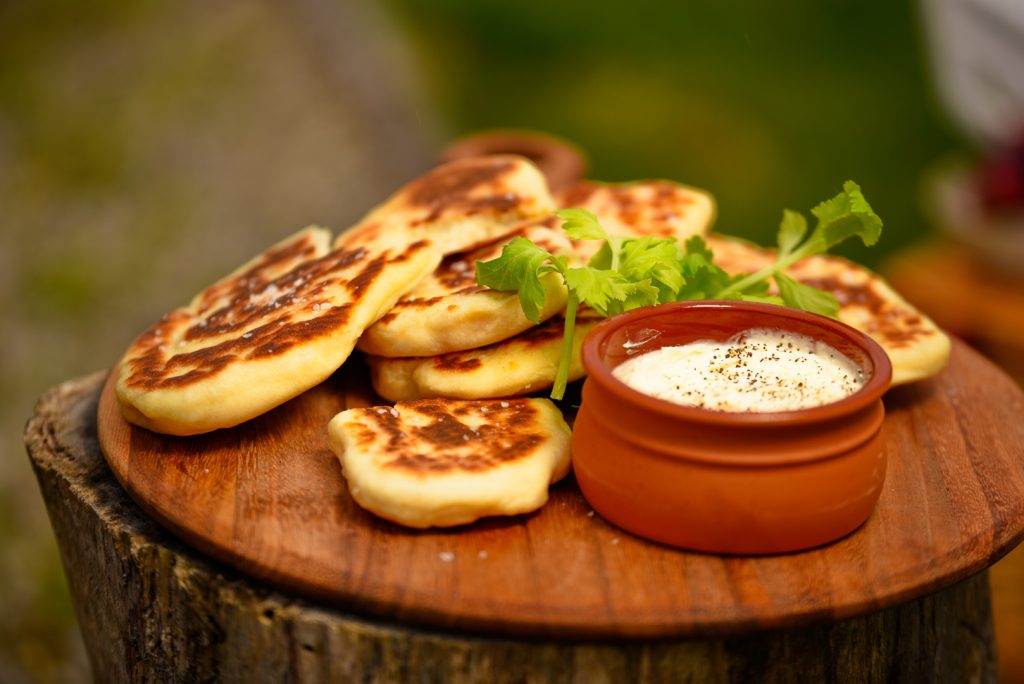 These are so easy to whip up and have a delicious taste of caramelised onion.
Makes: 6-8 Pita
Ingredients:
2 cups self-raising flour
1 cup natural yoghurt
2 tubs Chris' Heritage Vintage Cheddar & Caramelised Onion Dip (use 1 to serve)
Method:
Mix all ingredients except 1 tub of dip together in large bowl and knead very lightly to form a soft dough.
Cut the dough into 6 to 8 even pieces.
On a lightly-floured bench, roll out the dough into oval shapes, approx. 1 cm thick.
Lightly oil a hot pan on a Whirlpool 6th Sense FlexiFull 8 Zone Induction Cooktop, and cook on each side until the pita puff up and are lightly charred.
Serve fresh out of the pan or cooled with an extra pot of Chris' Heritage Vintage Cheddar & Caramelised Onion Dip.
For an extra Chrissy win, hold on to your reusable Chris' Heritage Vintage terracotta pots for gifts like potted plants or even swanky salt pots for your kitchen bench. How very convenient and sustainable — Merry Christmas!