EatWell Christmas: The Great Ocean Feast
Our lives often mimic the patterns of the sea. The ebb and flow of the ocean is reminiscent of the cyclic challenges and growth we face as humans in our day-to-day lives. This Christmas, as we celebrate the quality of Aussie seafood, we let it act as a reminder that through adversity comes strength. For every low tide, there is also a high. We also celebrate the Great Ocean Road as an artisanal region for good food and growers.
Matt's Cray Cray Chrissy with Thousand Island Dressing & Soft White Bread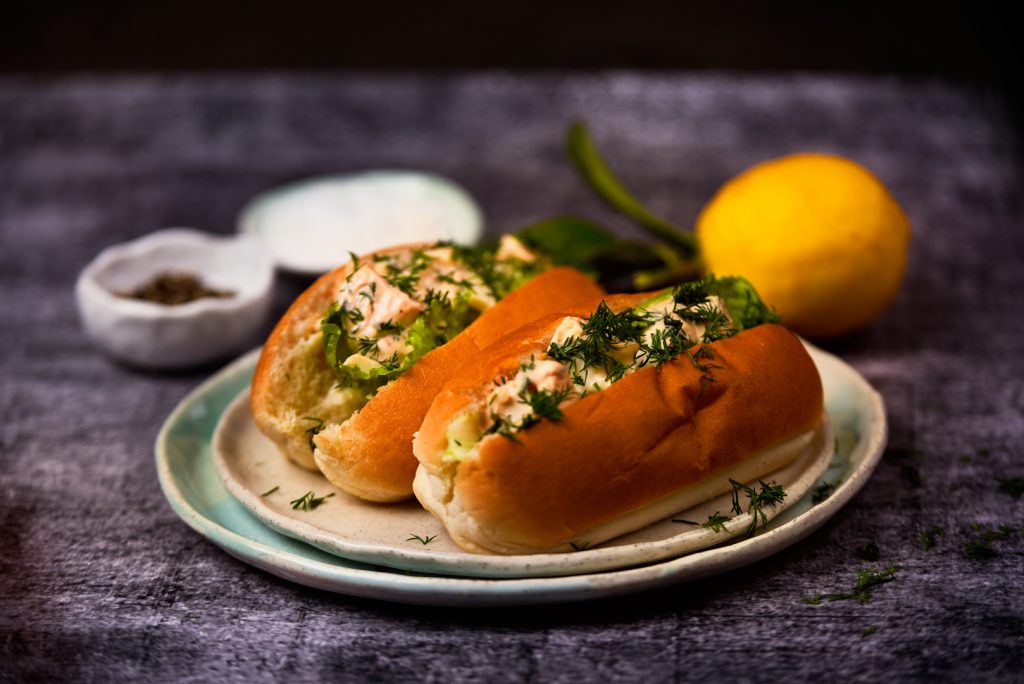 A Chrissy-boiled cray with lashings of homemade Thousand Island dressing served with soft white bread rolls and crunchy cos lettuce.
Serves: 6
Ingredients:
1 kg crayfish
6 white bread rolls, slit lengthways, to serve
Cos lettuce, chopped, to serve
Bunch fresh dill, roughly chopped or torn, to garnish Thousand Island Dressing
1 cup mayonnaise
1 tsp Sriracha sauce
1 tbsp Worcestershire sauce
2 tbsp tomato sauce
1 tbsp lemon juice, to taste
¼ tsp salt
Nip spiced brandy
Method:
Bring a large pot of water to boil and add a small handful of salt.
Gently place the crayfish into the water and cook according to weight, being careful not to overcook the cray. Each kg of crayfish will need to boil for 10-12 mins.
Whilst the cray is cooking, combine the Thousand Island dressing ingredients to create Matt's festive rendition of a summer classic.
Once the cray is cooked, remove from the boiling water and plunge into an ice bath to ensure it stops cooking.
To remove the tail, grab the head with one hand, use your other hand to grab hold of the tail, then firmly twist and pull it off.Use a bread knife to saw the tail in half, lengthways from the top. This will make an excellent clean cut.
Gently ease the shell away from the cray tail flesh and it should just pop out.
Roughly chop the flesh into generous pieces and toss with the sauce, using as much or as little as you prefer.
Pile the mixture into bread rolls and top with a handful of lettuce anda sprinkle of dill. This is Christmas done right!
Note: When next on the Great Ocean Road, be sure to drop in and say hi to Matt and Gemma at Fish By Moonlite. Do yourself a favour and order a takeaway grilled fish of the day, chopped salad and a hand-cut potato cake. It's known around here as the fish & chip shop where Melbourne Chefs get their fix for a reason! Head to fishbymoonlite.com.au for more.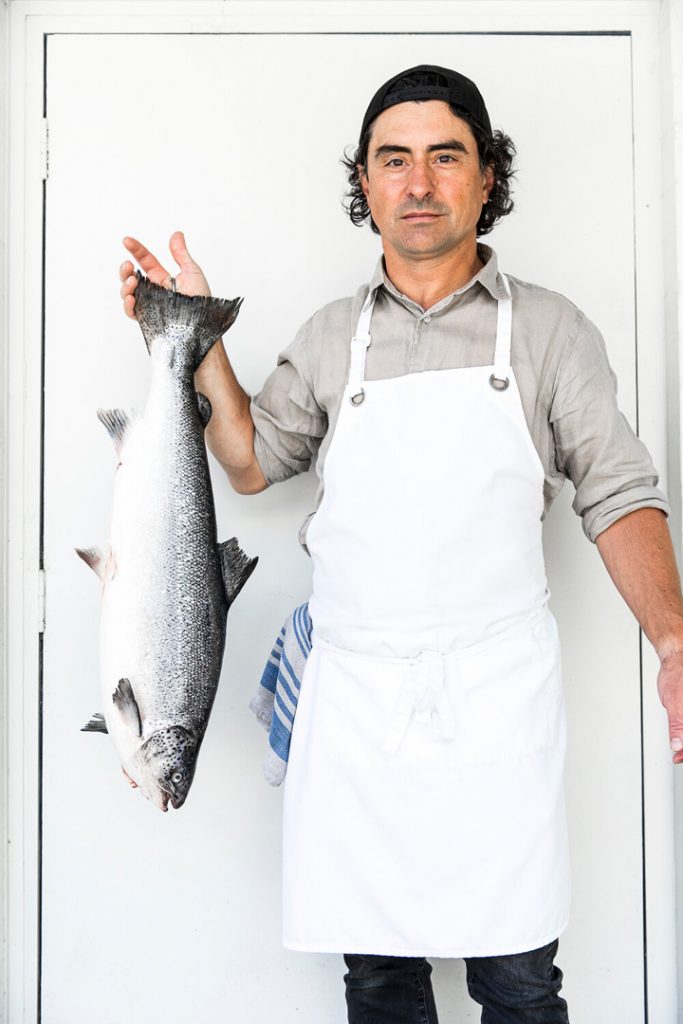 Matt Germanchis
Matt is somewhat of a local hero after beginning his career under Heston Blumenthal's wing. He now has visitors and even fellow chefs coming from far and wide just to get a taste of his seafood creations! His fish and chippery, Fish by Moonlite, is located in the Great Ocean Road town of Anglesea, a region Matt believes produces the best oceanic delicacies including crayfish. Matt spends each morning chatting to local fishermen about what they've caught the night before, so it's safe to say that he well and truly lives and breathes seafood. When it comes to all things fishy, the man knows his stuff!
Rustic Duck Fat Potatoes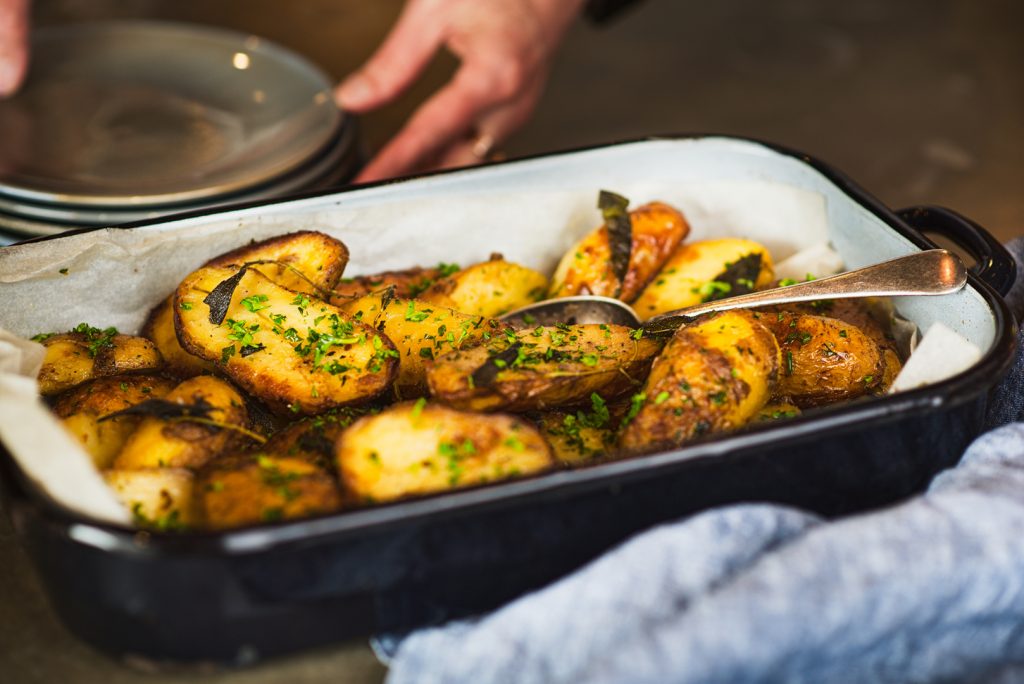 Is there anything that says Christmas more than crunchy roast potato? I sure don't think so! Pete and I have been working on the perfect roast spud all through lockdown. I hope you love this version as much as we do!
Serves: 6–8 as a side
1.5 kg Red Gem Dirty Crème Royale Potatoes, unpeeled & halved lengthways
Salt & black pepper, to taste
2 tbsp Luv-A-Duck Duck Fat
Small bunch fresh sage, leaves picked
Small bunch fresh parsley, chopped (optional)
Method:
Place the Red Gem Dirty Crème Royale Potatoes into a large saucepan of cold water and season with a small handful of salt. Turn your cooktop (I use the Whirlpool 6th Sense, FlexiFull 8 Zone Induction) to high and boil until cooked through.
Once cooked, drain the water from the saucepan and add in the Luv-A-Duck Duck Fat to your potatoes. Place a lid on the saucepan and shake the pan to fully coat. Add the sage and season to taste with black pepper and extra salt, then set aside and let the potatoes cool slightly.
Preheat oven to 180–200°C.
Place the potatoes in an ovenproof tray and into the oven. Roast until crispy — this will take approx. 1 hour.
Serve fresh out of the oven with flaked sea salt and chopped parsley.
Brown Butter Prawns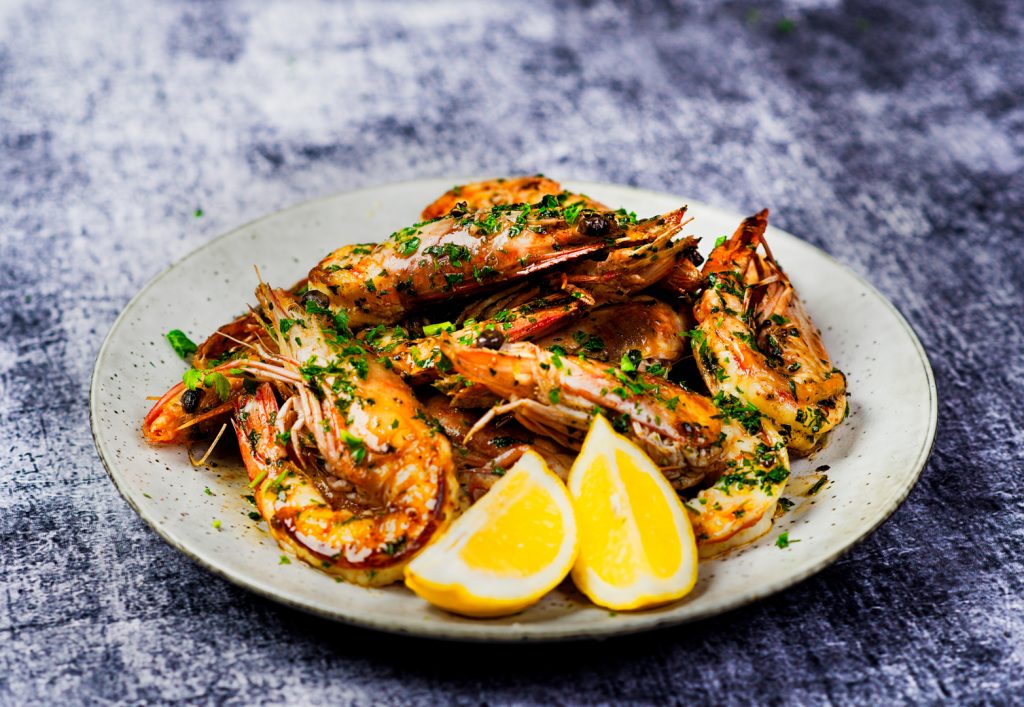 Once you learn how easy and delicious to brown butter, I promise you'll be browning butter in every recipe you can.
Serves: 4 as an entree
Ingredients:
100g Organic Milk Co. Salted Butter, cubed
1 tbsp olive oil
8 king prawns, peeled & cleaned, tails & heads left on
2 lemons, quartered
1 bunch parsley
Black pepper, to taste
Method:
Warm a small saucepan over medium heat — the Whirlpool 6th Sense, FlexiFull 8 Zone Induction cooktop offers unparalleled temperature adjustment for heat that's just right.
Add the Organic Milk Co. Salted Butter. Once the bubbles subside and start to foam and the colour begins to turn a beautiful
golden-brown, a nutty aroma will fill your kitchen and you'll be pretty proud of yourself if you've never done this before. As soon as the butter has browned, remove from heat and set aside.
Heat a large skillet over high heat and add a dash of olive oil. Once hot, add the prawns and cook on one side until they are caramelised and have changed colour over halfway through. Flip the prawns over and cook on the other side. This whole process should not take more than a few mins.
Once the prawns are cooked, add in the brown butter and swirl, then add a generous squeeze of lemon juice and swirl again.
Finish off with a generous sprinkle of parsley and a good grind of black pepper to serve.