EatWell Christmas: Easy & Impressive
Don't think fancy dishes can also be easy to create? Well, let us prove you wrong! Our Easy & Impressive menu will help you bring the wow-factor to your Chrissy table without the added stress. We want you to be able to take a moment to just enjoy amazing food with the best company — not be buried in the kitchen all night. Get ready for some fancy-pants dishes without the fuss that will make your mouth water at first sight.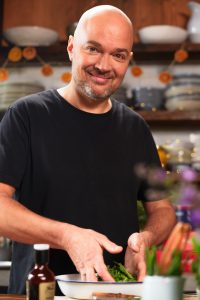 Grilled Duck Breast & Cured Zucchini Salad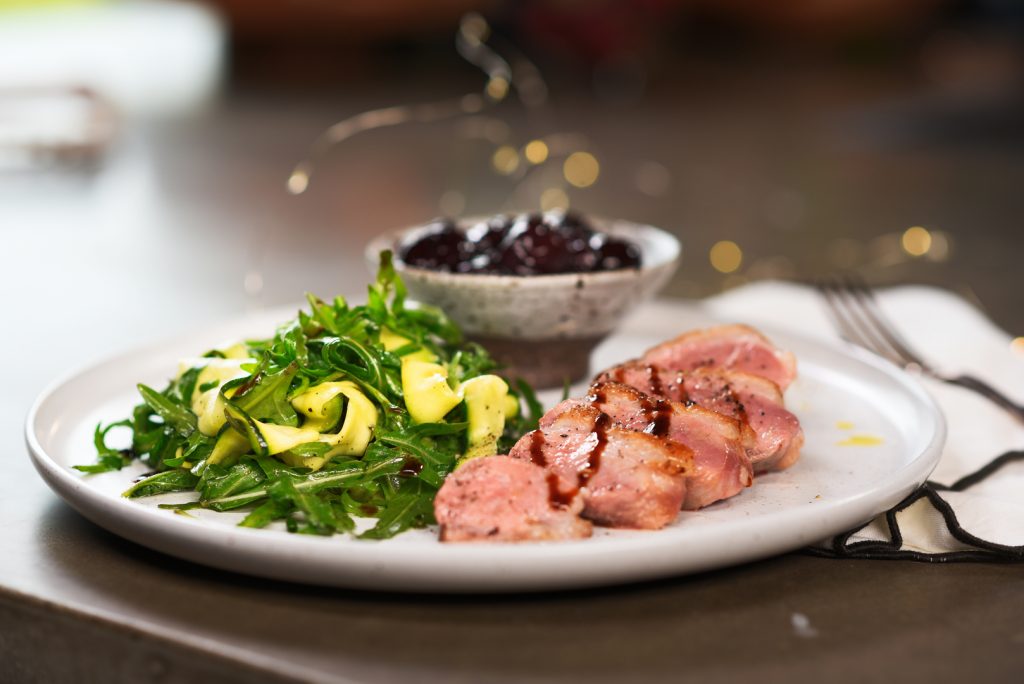 Recipe from Tobie Puttock, Celebrity Head Chef
Dubbed Australia's Jamie Oliver, Tobie Puttock took traditional Italian cooking and turned it completely on its head. We "luv" his interpretations of a classic duck recipe for the perfect Chrissy main.
Serves: 4
Ingredients:
1 tbsp Luv-a-Duck Duck Fat
380g Luv-a-Duck Fresh Duck Breasts
Sea salt & freshly cracked pepper
2 medium zucchinis, washed
Small handful curly parsley, washed & finely chopped
Small handful mixed parsley, mint & rocket
10 garlic chives or normal chives, finely chopped
Best quality olive oil
½ lemon
Method:
Heat the Luv-a-Duck Duck Fat in a griddle pan over medium heat on a Whirlpool 6th Sense FlexiFull 8 Zone Induction cooktop.
Season the duck breasts generously and pop on to cook for approx. 3 mins each side. Remove and set aside to rest for at least 2 mins in a bowl.
Use a potato peeler to peel long strips of zucchini into a bowl. Sprinkle salt over the zucchinis and allow to rest for 2 mins.
Rinse zucchini strips in cold water and toss with the herbs and rocket. Dress with your favourite olive, salt, pepper and a squeeze of lemon.
Slice the duck breasts into 4 or 5 pieces and then pop them back into the bowl with a pinch of salt and pepper along with a little drizzle of olive oil. Use your hands to toss the duck in the bowl so all those lovely resting juices are absorbed back into the duck and then arrange along with the zucchini salad.
For the Cherry Sauce
Serves: 4+
1 tbsp extra-virgin olive oil
2 tbsp Organic Milk Co Salted Butter
500g CherryHill Cherries, pitted
½ tsp sea salt
¼ cup Mazzetti Gourmet Glaze with
Balsamic Vinegar of Modena, plus extra for drizzling
Freshly ground pepper
Method:
Place a saucepan over medium heat and add the oil and Organic Milk Co Salted Butter and cook until the mixture is foaming.
Add the CherryHill Cherries, salt and Mazzetti Gourmet Glaze and cook for about 15 mins until soft and fragrant.
Remove from the heat and season with a generous grind of black pepper.
Plate up with the grilled duck breast, add an extra grind of black pepper and drizzle with Mazzetti Gourmet Glaze.
Serve with potato gratin and cured zucchini salad.
Tobie Puttock
Tobie is a Melbourne boy with a career that has taken him around the world to include working alongside Jamie Oliver in London. This "plant-curious" chef has a new-found interest in exploring the way plant-based cooking has evolved to produce extremely delicious, innovative and nutritional meals. Author of five best-selling cookbooks, he is an innovative and admired industry icon.
Note: If you're inspired by Tobie's cooking, check out his bestselling cookbooks; Daily Italian, Italian Local, Cook like an Italian and The Chef Gets Healthy, which saw Tobie take a new direction toward healthy eating and a balanced lifestyle — a great gift for you and the ones you love!
Strawberry Lemon Posset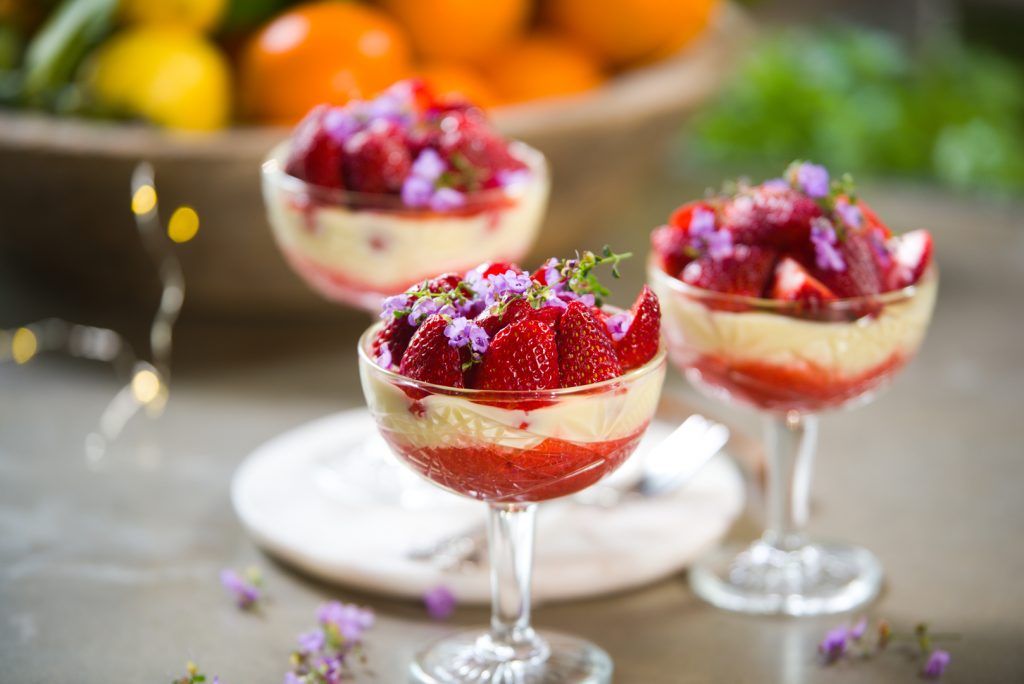 I love this dessert. Strawberry Lemon Posset is easy, simple and a great dessert just by itself or, as we have here, topped with delicious seasonal strawberries. Everyone who tries this is amazed by how good it tastes! With the Victorian strawberry season running until May, you'll get the chance to make this delight for months to come — what a win!
Serves: 6
Ingredients:
2 x 250g punnets Victorian Strawberries, washed & quartered
2 tbsp caster sugar (use natural sugar for a healthier option)
2 cups fresh pouring cream
1 cup sugar of choice (use natural sugar for a healthier option)
Pinch of salt
1/3 cup fresh lemon juice, plus extra, to taste
Zest ½ lemon
Method:
Mix 1 punnet of Victorian Strawberries with 1 tbsp caster sugar or natural alternative in a bowl. Set aside to macerate for 1 hour, tossing every 15 mins or so, then purée in a blender. I use the Russell Hobbs Desire Matte Black Blender for a deliciously smooth purée. Divide evenly between 6 large serving glasses.
Combine the cream and sugar in a saucepan and bring to a simmer. Add the salt and the lemon juice and zest then remove from the heat and set aside to cool.
Pour the mixture into the serving glasses with the strawberry purée. Place in the fridge to set for at least 6 hours.
Meanwhile, toss the remaining strawberries in with the remaining sugar and set in the fridge to cool for at least an hour.
To serve, remove the lemon possets from the fridge and top generously with the strawberries.
Tip: This posset is super delicious, easy to prepare the day before (just add fresh strawberries before serving) and an idyllic fresh, summery dessert.
Potato Gratin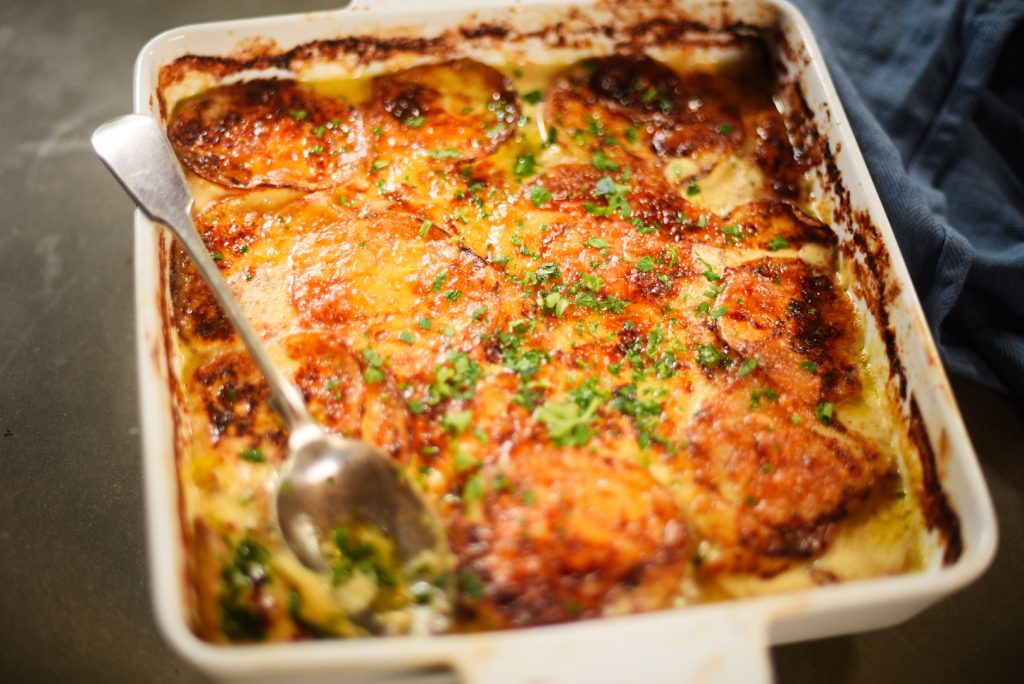 Potato Gratin is always impressive and a must for any fancy dinner. Potatoes can be waxy or floury. This dish suits a waxy potato, which is why I've chosen Red Gem Dirty Crème Royal Potatoes. They're a great allrounder and their skins come up a treat.
Serves: 6 as a side
Ingredients:
1kg Red Gem Dirty Crème Royale Potatoes,
skin on, washed & thinly sliced
Organic Milk Co. Unsalted Butter, to grease
1 tub Chris' Heritage Vintage Cheddar & Caramelised Onion Dip
1 cup cream
2 cloves crushed garlic
200g Organic Milk Co. Cheddar Cheese, grated
Small bunch parsley, chopped
Salt and freshly ground pepper, to taste
Method:
Mix together cream, Chris' Heritage Vintage Cheddar & Caramelised Onion Cheese Dip and garlic.
Grease a microwave-safe baking dish (approx. 23cm square) with Organic Milk Co Unsalted Butter.
Layer the sliced Red Gem Dirty Crème Royale Potatoes with the cream mixture in the tin. For an extra-delicious dish, finish each layer with a sprinkle of cheddar and season well with salt and pepper — I also like to add in some freshly chopped parsley.
Sprinkle the top layer with a generous sprinkle of Organic Milk Co. Cheddar Cheese and bake in the oven for 25 mins. I use the Whirlpool Extra Space Crisp Oven on the combi function for an extra-crispy, golden top layer.
When crisp, remove and sprinkle with chopped parsley. Magic!
Tip: Lovingly cook in Whirlpool's Extra Space Crisp Oven.